webthrower.com's first Platinum Award given to:
The Official Site of Mick Fleetwood
Designed by: Jonathan Todd & Girshon Rutstein.
http://www.MickFleetwood.com
110 pts. Total | Award Issued: 11-02-02
After reviewing this site I was so excited to finally award our Platinum Award to a well deserving site such as this one. I e-mailed my friends and relatives to brag about such a site. It's not everyday you come across such talent as Jonathan Todd and Girshon Rutstein put into this site. The design is totally original, an option for slow or fast connections, awesome graphics and video. On top of all of that it's subject is based on the legendary music star Mick Fleetwood, founder of Fleetwood Mac. Does it get any better than that?
After receiving our Platinum Award, Designer Jonathan Todd wanted to celebrate. Jonathan being in California and myself in North Carolina we had to do it by talking on the phone. Jonathan was very appreciative and told me about countless hours he and his crew were spending on some new upcoming events we get to look forward to. I can't wait!
Jonathan Todd in appreciation of winning our first ever Platinum Award was generous enough that he displayed the award on his site with a link back to me and if that wasn't enough he mailed me autographed by Mick Fleetwood "The Very Best Of Fleetwood Mack" double CD that was just released Oct. 15th. It's an awesome CD with 36 tracks of their greatest hits.
I am honored Mick and Jonathan.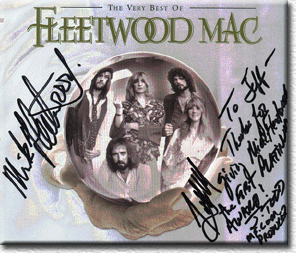 Signed: Mick Fleetwood &
To Jeff – Thanks for giving Mick Fleetwood the First Platinum Award! J. Todd MF.com Producer