The HURRICANE of the CENTURY
depicted in an epic BALLAD:
"Katrina Was Her Name"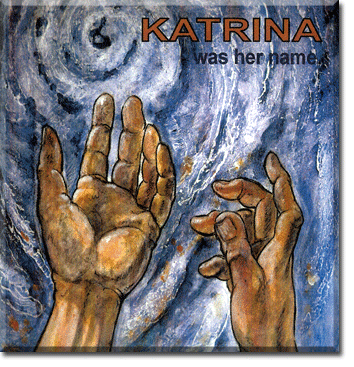 Sung and recorded by MITCH SNOW
Minimum $10.00 Contribution
All net proceeds minus production cost go to Hurricane Relief Efforts
for shelter, food, water, counseling, and other assistance to those in need.
(c) 2005 Demetra Bakas, Talula Cartwright, Jaxynn Gray,
Lee Hammond, Carl Laurent, John Russell, Mitch Snow, Veronica Talton,
Jan Tucker, Bob Webb, Kathy Sharon Wilson, and Dave Wulfeck, All Rights Reserved.
TO ORDER:
call 336-288-6354
TOLLFREE: 1-877-587-2302
or e-mail: titatotems@earthlink.net
Thanks for Your Heartfelt Support
GOD BLESS!
To contribute, call 1-800-HELP NOW, visit Redcross.com or e-mail info@usa.redcross.org
---