Animal Totem Songs
Tita and the Traveling Totems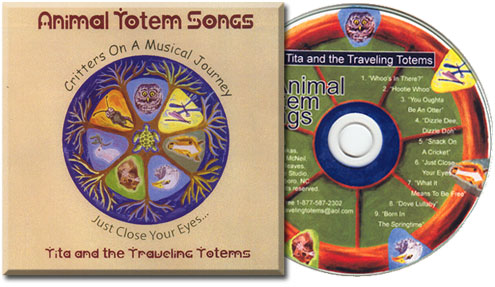 By Demetra "Tita" Bakas, John Paul McNeil and Bradford Reaves.
Sing along with animal totem songs.
Meet the animal characters, learn about their totems,
join the family fun for all ages.

Rated: clean and fun
CD Songs: 1. Whoo's In There? 2. Hootie Whoo
3. You Oughta Be An Otter 4. Dizzle Dee, Dizzle Doh
5. Snack On A Cricket 6. Just Close Your Eyes
7. What It Maeans To Be Free 8. Dove Lullaby 9. Born In The Springtime
Animal Totem Songs
CD $12.95 each
---
Add $3.00* shipping and handling for each item or set ordered.
North Carolina residents add 6% sales tax.
To ORDER
For bookings of Tita and the Traveling Totems Band
or Miss Tita, Story Teller call 336-288-6354 or out of Greensboro NC:
TOLL FREE: 1-877-587-2302
VISA and Master Charge Accepted
or e-mail: titatotems@earthlink.net
Please allow 10-14 buisness days for normal delivery.
Rush delivery available on phone orders.
* Shipping and handling charges subject to change.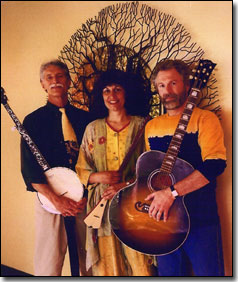 Tita and the Traveling Totems
John Paul McNeil, Demetra "Tita" Bakas and Bradford Reaves